Hi Everybody!
I had wanted to explore this topic a long time ago and forgot that I had left this post in my draft posts section for the past few months. Today, I want to talk about the "Hireling spirit". What I want to say is that we should avoid developing a "Hireling" spirit as a behavior because a Hireling is literally "hired help" but not necessarily one with the heart of a True Shepherd.
---
John 10:12
But a hireling, he who is not the shepherd, one who does not own the sheep, sees the wolf coming and leaves the sheep and flees; and the wolf catches the sheep and scatters them.

---

John 10:13
The hireling flees because he is a hireling and does not care about the sheep.
---
When you go to church, I think it is important to develop discernment with respect to your Pastors/Preachers/Priests and any head member or leader of the church that is in charge of leading people in some group or another in the church.
I think it is especially important for parents to assess the leadership of the churches that they want their children to attend because it's not enough to look at a building filled with many people and assume that just because a place has a huge following that the doctrine is "sound". I find that particularly in North America, we've had issues with Church leaders falling, particularly in "mega-churches" because of one scandal or another. This has given a rise to the issue of Apostasy as is written in 1 Timothy 4 (NKJV):
---
The Great Apostasy

4 Now the Spirit expressly says that in latter times some will depart from the faith, giving heed to deceiving spirits and doctrines of demons, 2 speaking lies in hypocrisy, having their own conscience seared with a hot iron, 3 forbidding to marry, and commanding to abstain from foods which God created to be received with thanksgiving by those who believe and know the truth. 4 For every creature of God is good, and nothing is to be refused if it is received with thanksgiving; 5 for it is sanctified by the word of God and prayer.

A Good Servant of Jesus Christ

6 If you instruct the brethren in these things, you will be a good minister of Jesus Christ, nourished in the words of faith and of the good doctrine which you have carefully followed. 7 But reject profane and old wives' fables, and exercise yourself toward godliness. 8 For bodily exercise profits a little, but godliness is profitable for all things, having promise of the life that now is and of that which is to come. 9 This is a faithful saying and worthy of all acceptance. 10 For to this end we both labor and suffer reproach,[a] because we trust in the living God, who is the Savior of all men, especially of those who believe. 11 These things command and teach.

Take Heed to Your Ministry

12 Let no one despise your youth, but be an example to the believers in word, in conduct, in love, in spirit,[b] in faith, in purity. 13 Till I come, give attention to reading, to exhortation, to doctrine. 14 Do not neglect the gift that is in you, which was given to you by prophecy with the laying on of the hands of the eldership. 15 Meditate on these things; give yourself entirely to them, that your progress may be evident to all. 16 Take heed to yourself and to the doctrine. Continue in them, for in doing this you will save both yourself and those who hear you.
---
The issue of APOSTASY can be also found in Africa, Asia, Europe and other countries where there are huge churches that have issues with misappropriation of church funds, mismanagement of tithes and offerings, using the Word (the Bible) out of context to manipulate people into giving for personal gains and not for true charitable efforts as it should be intended for etc etc because of a lack of transparency and accountability.  It makes outsiders who look in at some of these places that are meant to be a safe haven for "true worshipers" and "believers" to view such churches as places filled with mediocrity. I do not believe that God is pleased.
Some other churches have fallen because of sexual abuse/misconduct or some other scandal where a leader turned out to be gay/lesbian etc etc and the list going on. The devil is having a field day when he sees a church fall as he strikes the shepherd.
---
"Woe to the worthless shepherd, who deserts the flock! May the sword strike his arm and his right eye! May his arm be completely withered, his right eye totally blinded!"

---
[ The Shepherd Struck, the Sheep Scattered ] "Awake, sword, against my shepherd, against the man who is close to me!" declares the Lord Almighty. "Strike the shepherd, and the sheep will be scattered, and I will turn my hand against the little ones.

---
[ Jesus Predicts Peter's Denial ] Then Jesus told them, "This very night you will all fall away on account of me, for it is written: "'I will strike the shepherd, and the sheep of the flock will be scattered.'

---
[ Jesus Predicts Peter's Denial ] "You will all fall away," Jesus told them, "for it is written: "'I will strike the shepherd, and the sheep will be scattered.'
---
It is important to develop discernment concerning the leadership that you have in your churches, but you can only develop discernment concerning your leadership when you develop your own knowledge of what is written in the Word (The Bible) for yourself so that you will be able to pick up on the fact when someone is speaking something that is contrary to what is written in the Bible and out of context. Do not wait for a Sunday service to feed your spirit with the Word of God. You should learn to read the Bible for yourself and meditate on the Word day and night so that it doesn't depart from your mouth.
---
This Book of the Law shall not depart from your mouth, but you shall meditate in it day and night, that you may observe to do according to all that is written in it. For then you will make your way prosperous, and then you will have good success.
---
But his delight is in the law of the Lord, And in His law he meditates day and night.

---
Now, I want to make it clear that I'm not advocating a "witch hunt" in churches. What I am simply saying is that as Christians, I think we should not be complacent and that we should make it our duty to know how to discern when a leader in the church is leading people astray with false doctrine, and/or using the Word out of context in order to satisfy a personal agenda that has nothing to do with increasing ones spirituality, holiness or promoting Godly living. We need to protect our children from such leadership that can subtly become cult-like if we do not perceive the agenda of the leadership that uses the Word (the Bible) to manipulate people into doing things that are unbiblical in the first place by using the Word out of context to suit their own agendas.
---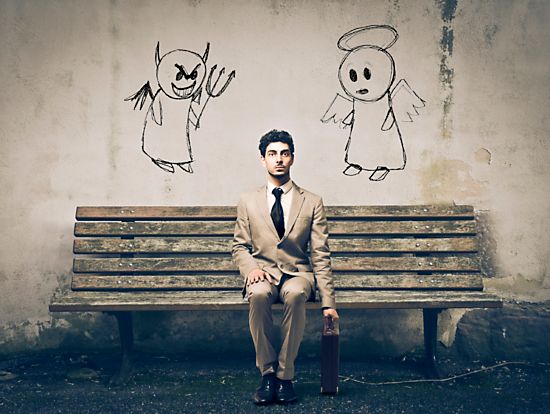 ---
There are some churches particularly in North America that manipulate people into giving huge amounts of money during offering collections but you never see the fruit of that giving, you never see where that money is going because there is a lack of accountability and transparency. When God-fearing people attempt to challenge the leadership to become accountable about the current status quo, you'll have to take note that you will face ridicule, persecution within the four walls of what should be a "safe-haven" just because you want to challenge the status-quo. I've been there and done that. I was in a church that didn't like being challenged for some of the things that they were doing that I thought were quite unethical in practice and wow….the backlash was incredible because I chose to challenge the status-quo. I'm not afraid to address what
should be done right. I'm not about pulling the wool over people's eyes especially with respect to church funds. Donations should be used for what they were intended for. I don't see why people should be benefiting from the offering if the offering is intended to build the church and not fill certain "leaders" pockets as they buy the latest cars and new houses with the church funds while some people are sacrificing a 10th (10%) of their salary through their tithes and offerings just to see God move in their lives. I don't believe that's right. Don't get me wrong, I'm not advocating that church leaders shouldn't receive a salary, because they should; however, what I am saying is that there have been several scandals in North America where there has been a gross misappropriation of church funds to fuel and satisfy the greed and lust of certain church leaders that have seared consciences with respect to the things of God which includes the purpose of the tithes and offerings that is intended to fill the storehouse (the Church) for Church needs and missions and not necessarily to greedily fill their pockets with more than "enough".
---
[ Do Not Rob God ] "Will a man rob God? Yet you have robbed Me! But you say, 'In what way have we robbed You?' In tithes and offerings.
---
It is so important to develop spiritual discernment with regards to the leadership in your churches because there have been cases where some churches became occultic through their leadership.
How can a church become occultic you ask?
It can happen if some leaders use the Bible out of context to spiritually manipulate their congregation to either participate in strange activities that have no true Biblical basis to back it up or engage in frivolous giving with the intention of amassing wealth from their congregation on the basis of fueling their greed. I have heard of pastors manipulating women (including married women) to sleep with them in order to "purify" their souls or absolve them of their sins. Where in the BIBLE does it say to do that which is contrary? Such abuses cannot be overlooked and I believe God is not pleased when such abuses happen in the church. This is why it is important for every believer to read the Bible for themselves and know what it says so that they cannot be led astray by Wolves in Sheeps clothing. 
---
[ You Will Know Them by Their Fruits ] "Beware of false prophets, who come to you in sheep's clothing, but inwardly they are ravenous wolves.
---
I just want to state for the record that I'm not advocating a witch-hunt in churches because there are churches with honest Shepherds and God-fearing leadership. What I am saying is that it is important to build on discernment so that you are not easily led astray by individuals who know how to use the Word (The Bible) out of context to manipulate people into doing things that are contrary to what is actually written. If you recognize that you are in a church that is not teaching sound doctrine, and that you are able to identify that some of the practices within the church are contrary to the Bible, then, I think it is time that you consider where in the world are you? Do not be idle in the church! Read your Bible for yourself and not simply wait for a Sunday Service to get your Bible fix. Also consider that you may have to look for another church if the one you are in is leading people astray from the TRUTH. You need to meditate on the Word for yourself so that you can become strong in the Lord and lead others in the right direction. It is important to meditate on what is written so that you can discern when someone is preaching something false or contrary to what you know is in the Bible. This is how you can sharpen your discernment. Iron sharpens iron and you need to sharpen your knowledge so that you can be able to distinguish that which is true and that which is false.
---
Remember when Jesus said that:
[

I Never Knew You

] "Not everyone who says to Me, '

Lord

,

Lord

,' shall enter the kingdom of heaven, but

he who does the will of My Father in heaven

.
---
This just goes to show you that it's not enough to simply have the appearance of Godliness if you deny it's power.
---
Perilous Times and Perilous Men

3 But know this, that in the last days perilous times will come: 2 For men will be lovers of themselves, lovers of money, boasters, proud, blasphemers, disobedient to parents, unthankful, unholy, 3 unloving, unforgiving, slanderers, without self-control, brutal, despisers of good, 4 traitors, headstrong, haughty, lovers of pleasure rather than lovers of God, 5 having a form of godliness but denying its power. And from such people turn away! 6 For of this sort are those who creep into households and make captives of gullible women loaded down with sins, led away by various lusts, 7 always learning and never able to come to the knowledge of the truth.
---
---
We need to become consciously aware that we live in very evil and perilous times. Again, I'm not advocating a witch hunt in churches. What I am simply saying is that as Christians, it is our duty to learn the Word for ourselves rather than wait for a Sunday service to get our Word fix. We need to meditate on the Word so that we can develop our discernment and the sensitivity to distinguish when someone is saying something that is contrary to what is written. Jesus always said "It is written…", however, how many of us know what is written? In order to protect yourself and your family from being led astray, it is pertinent that you hold Bible studies together as a family so that you can all grow together and then when you go to church you gain more understanding of what is written when the pastor preaches.
Self-growth is an individualistic thing. You have to be proactive in order to grow in your faith. There are many resources out there to help you increase in your faith. Invest in Christian books in areas of spiritual warfare, spiritual growth, theology etc etc. I would definitely invest increasing knowledge for personal growth so that you can become stronger and sharper as a Christian. I would highly recommend this website:  www.christianbooks.com as a great resource for affordable Christian literature if you are interested in investing in your knowledge of the Word. You will be more effective in your evangelistic efforts when you increase in your knowledge base of the Word and things concerning Christian living. Well, I think I've written enough for today so God Bless You Everybody! 😀
I have 2 songs for you today where the first one is by Sharon Dean featuring Darion Ja'Von called "More Of You" to bless your spirit today.
The second song is called For You (Intro)  by Darion Ja'Von. I pray that these songs blesses your spirit today. God Bless Everybody! 🙂