In the last post, I was at Job 41 where I discussed Leviathan briefly. If you study this particular chapter, it describes Leviathan's characteristics intricately and I found the last verse of scripture interesting when it states the following in Job 41:34:
He beholds every high thing;
He is king over all the children of pride."
---
---
Leviathan is King over all the Children of PRIDE. This is a very important note to take concerning the spirit of Leviathan. Those that operate with a spirit of PRIDE in their lives are referred to as the Children of PRIDE where Leviathan is the King and Father of PRIDE (a.k.a Satan/Lucifer). Those that operate with such a spirit often mock those that operate with a Spirit of HUMILITY which comes from God through the power of the Holy Spirit. If you think about it, Job was being tested for his character that he bore throughout his trials and tribulations to see if he would act out in PRIDE or defiance towards God, but Job chose to remain humble and steadfast despite his dire circumstances. One thing I like about Job was that he embraced his humility and refused to answer with a prideful tongue over his circumstances nor did he blame God for all these calamities that were befalling him.
---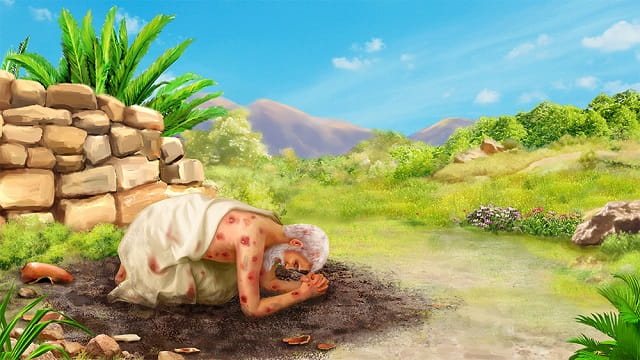 ---
How many of us know that some of us would probably blame God for our misfortunes if things go down the wrong way in our lives? It would be nice to assume that we'd never speak against God when we face horrible circumstances…but we don't know who or how we really would be, until we are faced with such circumstances that test our very own CHARACTERS.
---
When pride comes, then comes shame; But with the humble is wisdom.

---

By pride comes nothing but strife, But with the well-advised is wisdom.
---
In Job 42, the Lord was angry with Job's so-called friends and spoke to Eliphaz in Job 42:7-8:
---
7 And so it was, after the 

Lord

 had spoken these words to Job, that the 

Lord

 said to Eliphaz the Temanite, "My wrath is aroused against you and your two friends, for you have not spoken of Me what is right, as My servant Job has. 8 Now therefore, take for yourselves seven bulls and seven rams, go to My servant Job, and offer up for yourselves a burnt offering; and My servant Job shall pray for you. For I will accept him, lest I deal with you according to your folly; because you have not spoken of Me what is right, as My servant Job has."
---
Can you imagine the Lord chastising your so-called friends for having spoken ill-will of you and accusing you of having done something wrong to deserve all these spiritual warfare-like attacks and calamities? Sometimes, as Christians, we face spiritual warfare in different ways that manifest as sicknesses, financial woes, familial strife, disaster upon disaster whether it be natural or even supernatural in nature, and it may not be caused by any fault of our own. It's just that we tend to forget that we have an ADVERSARY (THE DEVIL) that petitions day and night to see us all go down to our demise. SPIRITUAL WARFARE IS REAL PEOPLE OF GOD!!!!! We can't ignore this fact as Christians and that is why I'm emphasizing the story of Job today so that as Christians, we can become sensitive to recognize when our brother or sister is struggling and that we need the discernment to realize where such attacks are coming from especially if your brother or sister is in RIGHT STANDING. The Lord's response to Job's friends was that they needed to make it right with Job and repent of their actions for they had heavily displeased the Lord with their presumptuous accusations and taunting against Job's calamities.
---
9 So

Eliphaz

the Temanite and

Bildad

the Shuhite and Zophar the Naamathite went and did as the 

Lord

 commanded them; for the 

Lord 

had accepted Job. 10 And the 

Lord

 restored Job's losses[a] when he prayed for his friends. Indeed the 

Lord

 gave Job twice as much as he had before. 11 Then all his brothers, all his sisters, and all those who had been his acquaintances before, came to him and ate food with him in his house; and they consoled him and comforted him for all the adversity that the 

Lord

 had brought upon him. Each one gave him a piece of silver and each a ring of gold.

 
---
---
The result of Job's faithfulness to withstand all these tests from the Adversary was that the Lord restored Job's losses and received DOUBLE FOR HIS TROUBLE. His friends would not have been forgiven had not Job prayed and interceded for his friends. That is a very important thing to note here because sometimes, people remain cursed if they are not repentant nor have sought to right the wrongs they have made against their brother or sister through their actions. Sometimes, some curses that operate in people's lives remain until they have righted a wrong. People may not believe in the reality of curses… but, believe me when I say, that such curses do exist and they can become generational in nature if one fails to repent of the wrong done to another. It is only through repentance, renunciation and confession that one can be set free from a potential generational curse. Job's friends did the right thing by restoring Job's honor with their gifts of repentance signified by their offering of silver and a ring of Gold in Job 42:11. The Lord rebuked his friends and chastised them for running their mouths against Job when they spoke in ignorance concerning what was really going on with Job. It is clear to me that they had no concept of the realities of SPIRITUAL WARFARE that Job faced and could only run their mouths feeling self-righteous and justified in their accusations against Job. 
---
Sometimes, as people, we should learn never to be presumptuous about another person's affair when we don't know the full scope of their story. It is better to stay quiet rather than to speak out of ignorance trying to make sense of a person's trial or tribulation. Sometimes you may find yourself with friends that are trying to be well meaning to understand what you're going through, but sometimes, they really ought to just shut up if they don't know what's really going on with you, especially if they are inexperienced in the realities of SPIRITUAL WARFARE. Job faced severe Spiritual Warfare and learned a great deal about how to remain HUMBLE when facing such a Spiritual Storm. Not many Christians know how to endure such trials to the end, so it is important to highlight the realities of SPIRITUAL WARFARE so that no Christian can put their head in the sand when things start going south for the winter in their lives thinking that these things will simply go away without a fight. Job's fight was intensely Physical, Emotional, Mental and Spiritual, so as Christians, we must learn a lot from JOB's experiences is my real message today. NO ONE is exempt from experiencing SPIRITUAL WARFARE so Christians, BUCK UP!
12 Now the Lord blessed the latter days of Job more than his beginning; for he had fourteen thousand sheep, six thousand camels, one thousand yoke of oxen, and one thousand female donkeys. 13 He also had seven sons and three daughters. 14 And he called the name of the first Jemimah, the name of the second Keziah, and the name of the third Keren-Happuch. 15 In all the land were found no women so beautiful as the daughters of Job; and their father gave them an inheritance among their brothers.

16 After this Job lived one hundred and forty years, and saw his children and grandchildren for four generations. 17 So Job died, old and full of days.
---
Job's ending was nothing short of VICTORIOUS! This story is so amazing in that Job teaches us that we should remain steadfast in our Faith to God no matter what trials or tribulations we face, for when we do, God blesses us in the fullness of Time after we have done all to Stand. I pray that as you meditate on Job's life experience filled with various adversities through my 3-Part Posts, you will look back at your own life and search deep within yourself to find areas where you need to develop and increase in your faith in God so that when trouble does come, you will have the Faith to Stand firm and not be moved by what you see, hear or experience. Remember: God has not forsaken you.
---
Let your

 conduct 

be

 without covetousness; 

be

 content with such things as you have. For He Himself has said, "

I will never leave you nor forsake you.

"
---
---
GOD will never leave you nor forsake you, so remember that fact, whenever you find yourself doubting whether or not God is with you in your dire circumstances. Keep praying and keep believing in God even when the World taunts you and discourages you. It is that steadfast faith that brought Job Double for his Trouble. The same can be applied to you if you just learn to believe, Amen!
---
Therefore

take up the whole armor of God, that you may be able to withstand in the evil day, and 

having done all, to stand

.
---
To finish this post with a bang I wanted to post this song by Israel Houghton called Reckless Love. The beat of this song is just phenomenal and I pray that this post blesses you today. God Bless You Everybody! 😀
---