Hello Everybody!
I felt the need to touch on the subject that many people like to steer away from which is the topic of Tithes and Offerings. 
What is so important about understanding the concept of Tithes and Offerings?
In order to answer this question, I first need to address the fact concerning what it is not. 
In some Christian circles, the idea of paying tithes and offerings into the church can be viewed in a negative light when you have certain churches that teach on the concept in such a way to entice or manipulate their congregation into giving huge amounts of money for greed purposes rather than for true charitable and missionary based purposes of the church. Let's just be real here, no one wants to be taken advantaged of and no one wants to invest in a place that doesn't claim to use what you are putting your money into.
It is a FACT, that many churches require the tithes and offerings that they receive from their members during their services in order to fulfill and satisfy their missions and programs that they offer for their congregation. It's a fact that with every church, like with any business, money is required in order to keep running its programs that they offer for their community. Let's not assume for one second that money comes from the sky somewhere, it comes from people just like you and me that keep them running in the first place. It's like with banks, you wouldn't open up an investment account with a bank that doesn't generate good returns on your investment. You would like to see the "fruits" or a return on your investment of what you are putting your money into. In the same way, Tithing and Offering has its benefits which I will explain later on in this post; however, let's first define what the Tithe is:
---
A tithe is literally 10% of your gross salary, eg. if you make $9456.00 in one week, or one month depending on when you receive your pay cheque, then what you give to the church is 10% of that amount which would be $945.60. The rest of the money is yours to do with whatever you would like to do; however, nothing is stopping you from giving more money additionally as an "Offering" if you feel led to give out of the generosity of your own heart. This is the true concept of TITHES and OFFERINGS.
---
---
Tithing and Offering is actually a Biblical commandment out of obedience from the Lord to bring your ten percent into His church. It's something that I find not many churches properly teach about and yet it is important to get into the practice of doing as a Christ-follower.
Now, apart from doing it just because it is a commandment in the Bible to do so, there are significant spiritual benefits in Tithing and Offerings. Believe it or not, but Tithing is also a SPIRITUAL WARFARE weapon for financial breakthroughs. When you tithe and offer in your church out of obedience, you stop a lot of evil forces attacking the fruits of your harvest.
Tithing and Offering rebukes the devourer from stealing what you make because God always blesses a cheerful giver. 
---
Each of you should give what you have decided in your heart to give, not reluctantly or under compulsion, for God loves a cheerful giver.
---
I remember years ago when I was awaiting to receive a government cheque that was been held up by bureaucracy and office politics from the Canada Revenue Agency that I was really strapped for cash because I had some bills to pay and I was running low on funds. I was in dire straights and found myself praying and fasting to God all the time for a breakthrough to which He showed me the verse regarding tithes and offerings from
Malachi 3:10
in my time of prayer and fasting that I kind of looked at God like…
"Do you not see I'm strapped for cash God!"
… but He kept impressing on my heart to trust Him in this thing and He would show me something that I had never seen before.
---
Well, since I was already low on funds anyway, I felt like I had nothing to lose. I was already feeling the pressure and was wondering why the government wasn't producing my long-awaited cheque that I was waiting on for the past few weeks. Out of obedience to what the Holy Spirit had impressed on my heart to do, I gave my 10% into the church with much fear and trembling and hyperventilation added (lol) that week and felt like, I have nothing to lose anyway. Would you believe, that the same week that I needed the money for my upcoming bills and what have you, the long-delayed cheque that I had been waiting for the past few weeks if not a month had arrived a few days during that same week after that Sunday service that I had laid down my tithes and offerings in the church bucket. I had to give a praise and a shout unto God for my breakthrough! God is indeed FAITHFUL! 😀
After receiving this breakthrough, I became obedient to this whole tithing and offering principle and I can tell you the truth, that I've never had financial difficulty ever since I decided to be faithful to this principle. I've received multiple breakthroughs and God has constantly been blessing me. I even preached about this principle in my previous church and a family that had also been going through some serious financial distress was also awaiting on a cheque from the government revenue agency to deal with their financial crisis but they had been experiencing delays upon delays on receiving these funds that they were now in dire straights, so they sat there listening to my testimony and decided to give it a try and gave 10% of what they had in their offering that day.
---
Another lady sitting in the same room who also heard the same sermon that I was preaching gave the very last money that she had in the offering bucket which was supposed to be used to buy her a plane ticket to go back home to Africa but she decided to test God in this and she gave everything she had believing God for a breakthrough. Let me tell you, the first family that gave their tithes and offerings received their breakthrough just a few days after they had sown their seed. They could not believe their breakthrough!
---
The other woman that had sown all that she had during that Sunday service testified that the very next day, (which was a Monday somebody!) the Canada Revenue Agency mailed out the long awaited cheque she had been waiting for the past few months to receive that not only could help her afford to buy her plane ticket to go back home, but she received enough to do more for her business back home. She was so blessed by what God had done to give her her breakthrough that she gave a huge offering to the church in gratitude for the lesson she had learned from my sermon regarding tithes and offerings that she now wants to forever remain faithful in understanding the principle regarding the purpose of the Tithes and Offerings.
---
Tithes and Offerings are a

spiritual warfare weapon

for financial breakthroughs.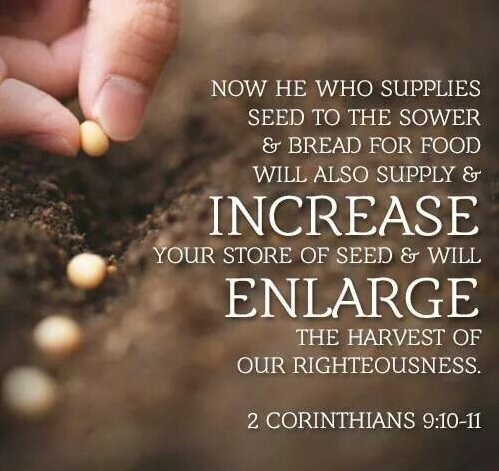 ---
If you are going through financial problems and you are a Christian, you need to understand the principle of Tithes and Offerings in order to obtain your financial breakthroughs. The thing is, many people don't like the teaching on tithes and offerings because they already have misconceived notions on the purpose of it either through bad experiences with some churches misappropriating the funds, or having the idea that there is no point in giving in the first place because you see no self-benefit in giving in the first place. Look, I can't guarantee what a church will do with your tithes and offerings because hopefully, you attend a church that is quite transparent in what they use their funds for; however, on the other hand, the concept of giving tithes and offerings is an obedience factor on YOU the INDIVIDUAL, Biblically speaking.  God looks at the heart of the giver, not at the amount that you give. You have to give in faith if you want to reap a harvest of righteousness in your life. Tithing and offering is supposed to be part of a Christians walk with God. It is a very powerful spiritual warfare weapon that can protect your harvest. If you are finding yourself experiencing a lot of financial difficulty or distress, try God in this area and start to tithe and offer in your church. Pray over your seed before you put it in the offering bucket. Ask God to rebuke the devourer of your harvest as you give your 10% into His church. You want to see breakthroughs but these things don't happen without acts of FAITH.
---
Ask yourself today, Can you trust God for your breakthrough?
---
I pray that this post blesses someone today. For some reason, the Lord has been impressing my heart to write on this topic today so I pray that for whoever is reading this, if you were led to read this message, then this message was for you. God wants to intercede for you, but you have to be willing to be obedient if you want to see breakthroughs happen in your life.
God Bless You Everybody! 😀