Hello People!
I wanted to post this inspirational video today regarding Ludwig van Beethoven, one of the most amazing composers in the early 30s who was unable to hear his own Harmonies because he was deaf.
---
Sometimes, as people, we can view our infirmities as the number one reason why we are unable to achieve the dreams that God has placed in our hearts to achieve. Some people can view an infirmity as a weakness that prevents them from moving forward, because they simply can't see how God views them. God sees you always at your full potential whether you realize this or not. He knows exactly what you are capable of being able to do, it's just that we need to remember that we are all created in His image and likeness and therefore, if that is the case, then there is nothing we can't do if we just BELIEVE.
---
Beat your plowshares into swords And your pruning hooks into spears; Let the weak say, 'I am strong.'"
---
---
In your weakness, God gives you strength. It's all in how you look at things. Nothing in this world is strong enough to prevent you from achieving greatness except your own mindset. If you have a negative mindset… then that is simply enough for you to halt your own progress. This entire year, since December 2016, I've been battling to regain my memories because of a sickness that attacked my mind (Encephalitis – causes short-term memory loss). I could have been filled with self-pity and a "woe-is-me" attitude if I had wanted too, and yes there were times I wanted to throw in the towel, but God kept pushing me to fight to regain my memories; and though the battle has been long, God has shown Himself faithful in my life. Little by little, everything is returning to me as it should and I am getting stronger and stronger each day. The sickness I had to endure could not stop me from pursuing purpose, and even now, I am amazed at how far I've come along.
People may ridicule you, make fun of you, undermine you, discourage you and point out your weaknesses to make you feel inferior, but you have to remember WHO your are in Christ. You serve a SUPERIOR God, and He created you with a SUPERIOR mind. Do not let the naysayers of your life define who you are when the Word of God (The Bible) tells you:
---
I will praise You, for I am fearfully and wonderfully made; Marvelous are Your works, And that my soul knows very well.
---
Your soul should know this very well, so remember that. The limits you have in your life are the limits you are willing to accept in your life. If you are unwilling to accept such limits that people place on you based on their personal judgments, or the limits you place on yourself by your very own confession, then you will operate in a realm where you will be able to become a barrier breaker with barrier-breaking faith. Remember this verse of scripture when you encounter a road-block or some form of discouragement from your peers:
---
Ephesians 3:20-21 [Full Chapter]

Now to Him who is able to do exceedingly abundantly above all that we ask or think, according to the power that works in us, to Him be glory in the church by Christ Jesus to all generations, forever and ever. Amen.
---
You don't have to accept defeat when God is telling you that you can overcome. Resist the negative and embrace the Truth of God's Word that tells you that nothing is impossible for you who believes. 😀
Luke 1:37 [Full Chapter] – For with God nothing will be impossible."

---

But Jesus looked at them and said to them, "With men this is impossible, but with God all things are possible."

---

But Jesus looked at them and said, "With men it is impossible, but not with God; for with God all things are possible."

---

But He said, "The things which are impossible with men are possible with God."

---

But without faith it is impossible to please Him, for he who comes to God must believe that He is, and that He is a rewarder of those who diligently seek Him.
---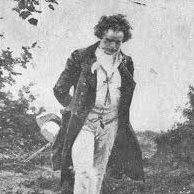 I was intrigued when I viewed this video regarding Beethoven. He didn't allow the fact that he was deaf to stop him from creating musical symphonies. How a deaf person can create music that they cannot hear with their own ears is beyond me; however, it still remains fascinating. My favourite one from Beethoven happens to be Symphony No. 7, Allegretto. The symphony played in the video I've posted below is called Moonlight Sonata. It's also one of my favourites from Beethoven and it kinda has a sad feel to it but strangely sounds beautiful at the same time. I hope that this video blesses your spirit today. God bless You Everybody and be encouraged! 😀
"Beethoven was creating piece after piece that carried the signature of a great master, and had begun to establish himself as the successor to Mozart" (Source: Goalcast – Ludwig van Beethoven).
---