Hello Peeps!
Today's post is in reflection to this passage of scripture from: 
[ 

Promises to Abram

 ] Now the 

Lord

 had said to Abram: "

Get out of your country

,

From your family And from your father's house,

To a land that I will show you

.
---
Sometimes, depending on your walk with the Lord, there will be times when you will feel led by the Holy Spirit to move from where you currently are to where God wants you to be. I know from personal experience that the Lord gives me signs when I'm supposed to leave some place and move to another whether it be a job, or church, or place to live. Sometimes, God doesn't call us to move to certain places but He may draw you to simply shift position from your current location whether it's in your job situation, it could be a lateral move, or a departmental change, or a management shift, etc etc. The thing is, as Christians, we need to develop that level of spiritual sensitivity to know when God is calling us to move from where we are, to where He wants us to be. Most times, He provides visual signs that become indicative of you to pursue a specific course of actions and in some cases, the move may not even make any sense to you, but if you obey His voice and just do what the Lord leads you to do, you will see amazing things happen in your life. This is where you have to move by FAITH and not by what other people say you can or cannot do. Do what the Lord leads you to do when you feel convicted in your spirit to do something regardless of the ridicule that you may face from others that don't see the road you are walking on.
---
Let me give you an example: I have a friend of mine that works for a Fortune 500 company that I used to work for and currently there has been a dramatic shift in leadership and management in her department. The manager she was once under before the shift was a great person; however, she was promoted to a new position leaving my friend to be currently under a terrible manager that seemed to be pulling games against my friend along with a new Senior Clerk, trying to target my friend to get her fired. My friend confided in me and told me what was happening in the workplace and I advised her that she should start looking elsewhere to work. My friend didn't have to take my advice, but she did and managed to obtain an interview at a well known prestigious firm that valued and prized her experience. I became her reference and she was blessed enough to get the new role! Praise GOD! 😀
---
Unbeknown-st to my friend, the new manager and the new Senior law clerk had been conniving together to try to get my friend fired, but before this clerk could pull any tricks up her sleeves, my friend gave in her 2-week notice. Booyahhh! LOL! 😛 That Senior Law Clerk and Manager that had tried to sabotage my friend were dumbfounded because they hadn't considered that my friend had taken my advice seriously and acted on it pro-actively by pursuing a wise course of action on her own to remove herself from this tyrannical management based on my advice to secure her life in a different job with her level of experience. The same conniving Law clerk could no longer take credit for my friends work and now realized that she was in deep trouble because she didn't know how to handle the files that were my friend's previous responsibilities.
---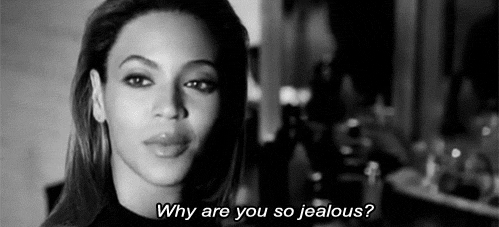 ---
Sometimes, people in your life will be jealous of you and will try and attempt to take credit for work that they didn't do and will do malicious things to sabotage you, your career, your relationships and your life. They will do things to boost their ego and will laugh at your struggles as they gang up against you with like-minded individuals that hate you. Your job isn't to be reactionary about what is happening to you. Your job is not to respond to the provocations of those that hate you. Your job as a "Christian" is to petition to the Lord through prayer to give you guidance as to what you should do now, knowing that you have enemies ganging up against you.
---
David in the Bible always sought the Lord through prayer when he faced battles against his son Absalom who was after his very own soul (read 2 Samuel 15 – 2 Samuel 16 – 2 Samuel 17).
---
Prayer to God is how we should respond to the provocations of our enemies. We should learn to pray rather than simply react to what's happening against us. When we receive the answer, we must respond with wisdom rather than with haste when trying to sort out a problem. This requires us to operate in the realm of Wisdom with Self-Control. When you have Self-Control, you will be able to handle whatever attacks that come your way with wisdom since you have a "Sound Mind".
---
2 Timothy 1:7 [Full Chapter] NKJV

For

God has not given us a spirit of fear

, but of power and of love and of a

 

sound mind

.
---
The NIV version says: 
For the Spirit

God gave us does not make us timid

, but gives us power, love and

self-discipline

.
---
You need to discipline yourself in order to respond with wisdom rather than with wrath over a situation that maybe beyond your control or comprehension.
---
My friend isn't a Christian, but she heeded to my advice because I could discern what was actually happening in her situation and gave her direction as to what she should do to overcome this situation as I was led by the Holy Spirit to advise her to have a "Plan B" to her current circumstance. She heeded and trusted in my advice and followed through and obtained a positive result/outcome that led her to a new position at a new job that valued her experience. We celebrated her new job not too long ago and I give God praise for what He has done to help my friend. Even though she isn't a Christian, the fact is, when you act in faith by heeding to the advice of "Godly counsel" regardless of your spiritual beliefs, you will obtain favour from the Lord. God is faithful to those who are faithful.
---
God is faithful, by whom you were called into the fellowship of His Son, Jesus Christ our Lord.
---
My friend even asked me to pray for her to get the job, even though she is a non-believer, to which I did, and she somehow believes that my faith in my God helped her to get to where she is now. Hopefully, one day she'll accept Christ as her Saviour. I will continue to pray for her. The Holy Spirit always gives me direction, wisdom, a word of knowledge and the answers I need when I'm stuck in a situation, or if someone I know is in a situation that requires divine wisdom to curtail the assignment against their lives.
---
To humans belong the plans of the heart,

but from the 

Lord

 comes

the proper answer of the tongue

.
---
Our Job, is to trust God and to lean not on our own understanding when we face a battle that is beyond our level of comprehension. When we Trust God, He is the One that is able to direct our path in the way that we should go. Learn to seek God through prayer and fasting (if needed) when you are facing something beyond your own limited level of understanding. When you seek God in prayer (and/or through fasting), He will direct your path in the right direction, Amen!
---
Trust in the Lord with all your heart

, And

lean not on your own understanding; 

In all your ways acknowledge Him, And He shall direct your paths.
---
I have a song by Hillsong Young & Free called In Your Eyes (Live).  I pray that this song ministers to you today. God Bless You Everybody! 😀
---